JEORDIE WHITE | BASE TENDENCIES
Product Info
SOUNDTRACK: GOAL!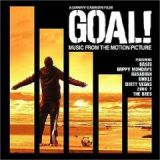 Buy
TRACKS
3. Leap Of Faith (UNKLE feat. Joel Cadbury)
Vocals and guitar by Joel Cadbury. Guitar, piano, backing vocals, percussion, programming by R. File. Piano, synth by J. Lavelle. Bass by Twiggy Ramirez.
7. Cast No Shadow (Oasis - UNKLE Beachhead Mix)
Vocals, guitar and celest by Noel Gallagher. Bass by Jeordie White. Electric cello by Phillip Shepherd. Drums by Terry Kirkbride. Piano, guitar, synths and percussion by R. File.